Observing the Impact of the Coronavirus in Downtown Lincoln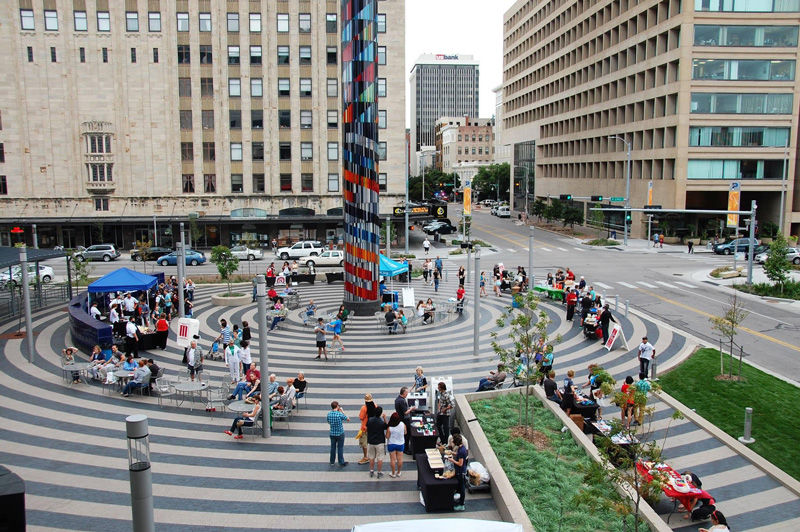 Limited protections against COVID-19 required by Lincoln leads to the downtown area requiring masks indoors but very limited precautions when it comes to the outdoors areas. Exploring the impact of COVID-19 on the downtown Lincoln area will help with comparing it to the University of Nebraska-Lincoln impact because it allows for multiple perspectives on the whole of Lincoln's handling of the pandemic.
COVID-19 has impacted downtown Lincoln in a limited way. The majority of businesses require mask usage when visiting their buildings, but do not specifically require them outside, not do they actively encourage social distancing procedures around the area. For downtown, Lincoln is doing the bare minimum required for such a widespread pandemic. As a result, the majority of people I saw on my observations did not wear masks, did not practice safe social distancing procedures purposefully, and acted as if a pandemic was not occurring in the outdoors. When I looked in the windows of a few stores, the people inside were wearing their masks like they should be. This dissonance does not keep everyone safe.
As found in Chapter 31, Hunter et al. explains how "encouraging people to experience culture from different perspectives is a core value: we seek to enrich the object of study by layering multiple, simultaneous, valid interpretations onto it." By experiencing Lincoln through both the Downtown and the University campus, we are able to compare how the two areas are handling the pandemic in a way that shows how our culture is varied. People look at how the campus actively encourages health and hygiene practices by putting hand sanitizer stations, various social distancing reminders, and reminders to wear masks. On the other hand, downtown Lincoln does not actively encourage it outside, and instead presents its reminders with various signs supporting mask usage. Those that support mask usage and social distancing would believe that Lincoln in general is not doing enough to handle the pandemic, while those that object to the masks would say the University campus is over exaggerating the problem. Knowing ahead of time the assignment for comparing the downtown campus impacted how my observations would be handled. Instead of focusing on the outside and the inside places like I did on campus, I focused primarily on the outside. I also relied on both the people and the outside environment for my observations of downtown instead of just relying on the people themselves.